President's Message
The mission of the Hearing Loss Association of America is to open the world of communication to persons with hearing loss through information, education, support and advocacy.

The 7th Annual Hearing Tech Expo is a great place to find education, support and advocacy. And, it is FREE!
Try out hearing aids without the pressure to buy
Check out the 50 cutting-edge exhibitors
Discover the wonders of cochlear implants, wireless accessories, assistive listening devices, free phones
Watch demonstrations of the latest technologies
Check out the new programs for parents and children with hearing loss
Get a free consultation with an audiologist and a hearing screening from a hearing professional
Feel free to ask questions during the insightful panel discussions
Listen to keynote speakers who will demystify new devices and technologies
Have fun and bid on silent auction items
Traductores de español
If you need a free ride, (no tips allowed) call 941-364-7530; ITN Suncoast – a dignified transportation for seniors
Please join us Saturday, October 27, from 9 AM – 4 PM
Manatee Technical Institute
6305 State Road 70, Bradenton, FL
One mile west of I-75, exit 217 B
TEAM Together Everyone Achieves More!

Anne Taylor
President

Hearing Loss Association of America – Sarasota/Manatee
Website – http://hlas.org
Facebook – https://www.facebook.com/Hearing.Loss.Association.of.Sarasota
______________________________________________________________________________________________________________________

MEETING UPDATES
Upcoming Chapter Meeting –
Wednesday, October 10th at Noon
Our October meeting will be quite interesting even if you don't require a hearing assistance dog. Chapter member Chris Goodier has overcome hearing loss to forge a writing career and will share her knowledge about hearing assistance dogs. Chris will also share lots of travel tips with us.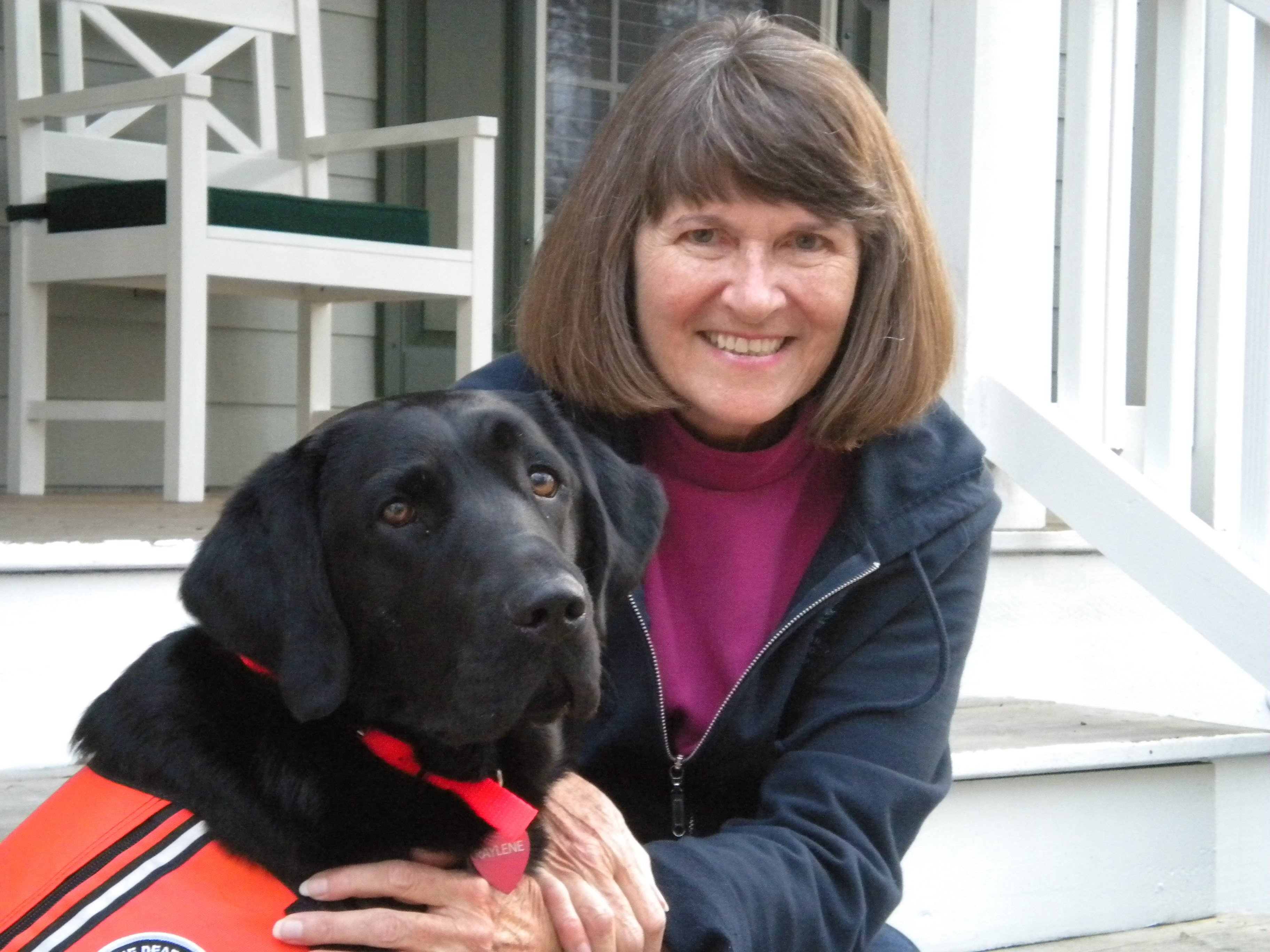 The presentation is entitled, "Would a Hearing Assistance Dog be Right for Me?".

Christine Goodier is an Osprey, Florida-based freelance travel writer, editor and photographer. She started her career working in sales and marketing jobs for international airlines and cruise lines. Chris began writing about the Caribbean for magazines, tourist guides, and other publications while living on St. Croix in the U.S. Virgin Islands. She currently writes RV travel articles for Motorhome Magazine.

Since 2014, her Hearing Dog, Raylene, a Labrador trained by Dogs for Better Lives, a nonprofit organization previously known as Dogs for the Deaf, has accompanied her on her travels. With co-author Henry Kisor, Chris has written a unique travel guide to be published in 2019 by the University of Illinois Press titled "Journeys with Working Dogs: Navigating Service Animals Across North America".
Chapter meetings will run from Noon to 1:30 PM
The Chapter will open the room by 11:45 AM and encourages members to come early, as the Chapter will provide sandwiches, chips and cookies at a charge of $5. It's OK if you want to bring your own lunch!

September Chapter Meeting Recap
The meeting opened with Chapter Treasurer Dave Donnelly's report indicating that HLAA-Sarasota/Manatee's primary support comes from the Giving Challenge and fees from exhibitors at the annual Expo (coming up October 27).

Chapter president Anne Taylor gave a rundown of upcoming events.

Board member Ed Ogiba explained the new features of the 7th Annual Hearing Tech Expo, including a clinic and children's (and parents') events.

Flo Innes, an early Chapter member back when HLAA was SHHH, reported on the HLAA Convention held in Minneapolis this past June.

Flo then spoke about an array of hearing assistive devices including pocket talkers, alarm clocks, doorbells, FM and Bluetooth devices for the TV and many more. She advised that HLAA members get 20% off all purchases through Harris Communications whose catalogue lists literally 100s of devices that can help the hard of hearing get through each day a little better and safer. https://www.harriscomm.com. [see similar discounts on ten other companies for HLAA members at https://www.hearingloss.org/make-an-impact/become-a-memberrenew/

The first "Lunch and Learn" was a great success with 40 members and visitors arriving at the new time and many taking advantage of the $5 lunch spread of sandwiches, snacks and cookies.

Upcoming After Hours Meeting -Tuesday, October 2nd at 6:00 PM
"After Hours" is the evening chapter meeting for members and guests who are unable to attend during the day. Of course, all members and guests are welcome! By the way, cheese, snacks and products of Napa and Sonoma are served!
NEXT "AFTER HOURS" – OCTOBER 2 AT 6:00 PM
Our speaker will be Elissa Moran, Outreach Manager for Florida Telecommunications Relay (FTRI), who will speak about the latest FREE technology offered by FTRI to Florida residents.

After Hours meets at the Center for Arts & Humanities
1226 N. Tamiami Trail, Sarasota.

JOIN US – THE ROOM IS LOOPED! — AND CART TOO!


Click here to view the Event Calendar for Upcoming Events

______________________________________________________________________________________________________________________
SCENE & HEARD
FARMERS MARKET
Please contact Dave Donnelly to educate and advocate for those with hearing loss at the Farmers Market normally on the fourth Saturday of each month. However, due to the Hearing Tech Expo occurring October 27, the Chapter will be set up for Saturday, October 20.
SATURDAY, OCTOBER 20TH7:00 AM to 1:00 PM – SARASOTA

Consider volunteering for a two-hour shift. On-the-job training is available at any Farmers Market Day.

Let Dave know by contacting hla.sarasota@gmail.com.
Our monthly information and support booth offers an opportunity for people to learn how to address their hearing loss.

There are FREE hearing screenings each month by one of HLAA-Sarasota/Manatee's Pro Partners. If you have a friend who needs hearing help and cannot make one of our meetings, please suggest they visit us here.

LISTEN!UP RECOMMENDS ….

Have you used our Helpful Links/Resources Page for relevant information regarding hearing loss? Click on:http://hlas.org/helpful-links
Did you ever wonder, "I think I read that a couple of months ago in Listen!Up"?
Well, problem solved–use the updated website to review any and all issues of Listen!Up in the past, just go to: http://hlas.org/news/listen-up/
"LIKE" THE HLAA-SARASOTA/MANATEE FACEBOOK PAGE

The Chapter's Facebook site is limited to important medical, legal, and technical information about your hearing, and calendar reminders of upcoming events. https://www.facebook.com/Hearing.Loss.Association.of.Sarasota

"LIKE" us like 1000+ others do!

_______________________________________________________________________________________________________________________


LOUD & CLEAR

Many hearing aid brands will be available for testing at the expo, BUT you must have an audiogram with you or there could be a long wait for the free testing at the expo. The Chapter has arranged for FREE testing PRIOR to the expo with its Professional Partners.

Want to try leading hearing aid models for FREE? Here's how:

Free hearing aid trials will be provided by four of the leading hearing aid manufacturers at the Hearing Tech Expo on October 27. To try the hearing aids, there are two steps and there is one you can do ahead of time to save waiting in the long line for this very popular feature.

1. You must present a hearing screening at the expo. You can skip this step and the waiting line by either bringing a copy of a past hearing test OR getting a FREE screening before the expo at one of these participating clinics. If you want to get a FREE screening ahead of time, all you need to do is to call for appointment at one of the seven options below and mention you plan to come to the Hearing Tech Expo.


Bradenton
Hearing Spa 4626 26th St. W (941-755-5535)

Lakewood Ranch
Adept Audiology 11041 Gatewood Drive (941-312-4781)

Sarasota
Adept Audiology 1299 N Tamiami Trail (941-312-4781)
All Ears Hearing Services 2620 S. Tamiami Trail (941-320-2122)
Hearing Spa 1416 Fruitvale Road (941-366-4848)
Silverstein Institute 1901 Floyd St. (941-366-9222)
Sarasota Farmer's Market You can also get a hearing screening without an
appointment at the Farmer's Market on Saturday, October 20, at the HLAA
booth at the corner of Lemon and Main St. from 7 AM to noon.
Venice
Silverstein Institute 400 S. Tamiami Trail (941-366-9222)

2. You then need to schedule a consultation with an audiologist to review your hearing screening and to recommend which specific hearing aids you should try based on your hearing needs. You can get an appointment at the expo reception area when you check-in.

Saturday, October 27 is the date
9:00 AM to 4:00 PM is the time
Manatee Technical Institute on Route 70 is the place


CHAPTER BOARD BUSINESS

THE FLOOR IS OPEN FOR BOARD NOMINATIONS
· Nominations are open for Board elections for the 2019-2020 term.
· The nominees will be announced at the November Chapter meeting.
· The annual election will take place at the December Chapter meeting.

Due to term limits, several seats on the Board will be filled.
If you wish to be considered to serve as a Trustee for the next two-year term, please contact Governance Committee Chair, Richard Williams at rnw1976@aol.com.
OUR PROFESSIONAL PARTNERS


The Chapter is always pleased to promote an event by any of our Professional Partners that comports with our Mission. This month, HearCare Connection will have its fundraiser to operate a reduced-fee, sliding-scale nonprofit hearing clinic in Sarasota & Manatee County.
Dr. Mary Thorpe and Eileen Olson invite you to join HearCare Connection -Sarasota for their 3rd Annual Wine & Stein Fundraiser – A Taste of Hearing.
The event will be held Thursday, October 25, at 6 PM at the vineyard-like tasting room and meeting facility at Gold Eagle Distributing, 7051 Wireless Court, Lakewood Ranch.

It will be a fun filled evening with wine and beer tasting, appetizers, silent auction and live entertainment.

The HearCare Clinic has served Sarasota and Manatee Counties for three years.

Tickets are $50 per person.
Click https://hearcareconnection.ejoinme.org/MyEvents/2018SarasotaWS/BUYYOURTICKETNOW/tabid/973349/Default.aspx or call at 941-316-0406.

The HLAA policy is to not recommend any specific product, ENT, audiologist or hearing aid dispenser.

Although the Chapter follows this policy, we have identified professionals who endorse our 501 (c) (3)'s mission to help others through information, education, advocacy and support. They are listed on our webpage at http://hlas.org/joanne-devries/.

Members are encouraged to review this list of professionals when considering professional services

[NOTE TO PROFESSIONAL PARTNERS – IF YOU HAVE AN EDUCATIONAL OR ADVOCACY EVENT OR NOT-FOR-PROFIT PROMOTION, LET THE CHAPTER KNOW AND WE WILL PROMOTE IT TO OUR MEMBERSHIP.]
LIP-READING CLASSES FOR THE FALL


The Fall classes will be held at ACE (Adult Continuing Education) Suncoast Technical School at 4748 Beneva Road in Sarasota.

Classes will be held on Wednesdays, beginning Oct. 3rd and end Dec.12th. No class will be held Nov. 21st due to Thanksgiving break.
Classes will be held at:
Suncoast Technical College
4748 Beneva Rd., Sarasota
941-361-6590

Sessions are 10:00 AM to Noon and are FREE thanks to an anonymous grant.
The classes are in Room 205 at the Technical School.

All students must register at the ACE office either by phone, e-mail, or in person.

Contact the ACE office at 941-361-6590.

HEARING LOOP ADVOCACY

In the next few months the Chapter's advocacy efforts will pay off in the looping of a facility that will have a very beneficial effect on our two-county area. We will announce that when the process is implemented.
Hearing loop advocacy is expanding our ability to "hear" at public events throughout the country. HLAA's favorite comedienne, Gael Hannan, wrote a piece in Hearing Health and Technology Matters last month that gives more understanding to the hearing loop.
Closing the Gap: The Magical Intimacy of Hearing Loops
By Gael Hannan
I'm not in Kansas anymore. I can say that because a couple of weeks ago, I was in Kansas for the first time. So, now I belong to the club of We're-Not-in-Kansas-Anymore-People. (I don't have a Toto, so I use the royal 'we'.)

But while I was there, magic happened. The Lied Center, the performing arts venue at the gorgeous University of Kansas, has celebrated its 25th anniversary by installing a comprehensive looping system. I had the honor of delivering the inaugural presentation in the newly accessible theater.

From now on, Lied Center audience members with telecoil-equipped hearing aids and cochlear implants can, with a flick of a switch or a tap of a button, hear the sound of every voice and musical instrument made on stage right in their devices, anywhere they choose to sit. The system closes the gap between speaker and listener; rather than riding on sound waves across the distance to a hearing aid's receiver, the sound is transmitted directly through looping technology. Eliminating background noise, the sound presents itself with such clarity, it feels as if you're thinking these sounds. Telecoils and induction loops restore the intimacy of sound and speech and music that many of us have lost along with our hearing. And this is as magical as going somewhere over the rainbow. READ MORE!
CHAPTER PRESIDENT'S MONTHLY COLUMN
IN THE VENICE GONDOLIER
Anne Taylor is a Bilateral Cochlear Implant user, a Gallaudet Certified Peer Mentor for the Hard of Hearing, and President of the HLAA Sarasota/Manatee Chapter.

Out of This World – Part 3
Here we were in the United States of America, the perfect family – pursuing the American Dream!

Staying at home with two children was good for me from a hearing point of view. I was able to hear them quite well and, as we all know, small children are very good at saying (or yelling!) over and over again until they get a response.

We wound up in Florida after living in Chicago for about a year. Needless to say, Florida was like paradise to us after a very long, cold, snowy winter in Chicago!

When Allison was 3 or 4 years old, she would answer the phone and tell me who it was, and what they wanted. She was a very bright little girl and not at all intimidated by the phone. If we needed a babysitter, she would call and repeat the arrangements we needed. She was already very confident and, by helping me with the phone, she became even more so. Today, she speaks extremely clearly, and she says that she had to speak clearly for me to understand her. It is nice to know that having a hearing loss can actually be helpful to someone!

My son, Richard, would take a message occasionally – unfortunately, he did not always get the names and details quite right! I remember we had friends named Vedova and he used to tell me Mrs. Bedoba had called. I would say, "What did she want?" "Oh, I dunno," he would say.

Strangely enough, Richard was, and still is, an excellent lip-reader – a skill no doubt learned as a result of having a hearing-impaired mom. READ MORE!


MEMBERSHIP AND RENEWAL NOTES
The Hearing Loss Association of America (HLAA) is the country's leading membership and advocacy organization for people with hearing loss. As a member of HLAA, you are part of an organization with a mission to provide information, support and advocacy to people with hearing loss. Through HLAA's advocacy work at the federal level, it represents 48 million people with hearing loss in the United States.
Chapter Members, please note:

HLAA sends only one notice for renewal and many members have unknowingly not renewed.
Please check whether your membership is current by logging in at: https://17291.thankyou4caring.org and if your membership has expired, please renew (or join) by linking to: http://www.hearingloss.org/content/join.
If you prefer to mail-in or fax your membership form, please download the membership form [PDF] for your convenience.

THANK YOU!

_______________________________________________________________________________
PRIVATE EYES MOVIE CLUB

Enjoy the movies again with "Caption Glasses"!

The Club will meet this month on Tuesday, October 30.

"Private Eyes" will meet around 4:00 to 4:30 PM at the Hollywood 11 on Main St. in Sarasota.

A roundtable "review" – and other conversation – follows at a restaurant within a short walking distance of the theatre.
If we have sufficient numbers, the Hollywood 11 turns on "the switch" for open captions, which are on the screen. The Chapter had an "Open Caption" night with short notice last month at the Burns Court Cinema. Watch your email for more of these in the future. [See Part Four below for more than you ever want to know about Open Captions!]

HLAA members are entitled to a FREE movie ticket with their first outing with the Movie Club. Those interested should contact Anne Taylor to be included in the monthly club mailings (anne7257@gmail.com).

Also, do take advantage of captionfish.com anywhere in North America to not only see what movies are captioned, but which device the theatre uses.

Attorney John Waldo is a regular presenter at HLAA Conventions and is counsel to the Association of Late Deafened Adults (ALDA), a nationwide support and advocacy group. He has won major court victories to mandate that movie theatres caption movies. John has written a four-part series on movie captioning and Listen! Up is posting these in Private Eyes.
Parts 1-3 are on the website at: http://hlas.org/membership-notes/.
Movie Theater Captioning, Part 4 of 4: We're Not Done Yet
Open captioning is great. The captions are right there on the screen. We don't need to self-identify and pick up a viewing device. The theaters don't need any special equipment – they just select the open-caption option from the digital data package, and the captions appear for that showing.
While we like open captions, the theaters don't – or at least, they haven't. Their concern is that a lot of hearing people find open captions distracting. And they have some old data to back this up – prior to digital conversion, Regal showed some open-captioned movies at off hours, and attendance at the captioned showings was lower than attendance at non-captioned showings. READ MORE!

CURTAIN TIME THEATRE CLUB

The 89th season of the Players Theatre presents the second show in the Broadway Series, "Vanya and Sonia and Marsha and Spike". Our FREE tickets are for Tuesday, October 23, at 7:30 PM.

The Players offers 25 tickets to us. Reservations can be made with Chapter member John Wagner at johnadri@comcast.net.
This is a perk of your membership – Members Only for this freebie!
In a play full of funny, zany characters, it's clear that not all of them believe in themselves, or their place in the world. While one character has crawled her way to stardom on the silver screen, another character rarely leaves the house and has never even gone on a date. They change though, when they come together, in one house and finally become honest with each other and themselves. Join this eclectic group of characters in this Tony Award winning comedy by Christopher Durang. Three "unique" siblings live, love and argue in their family's home that just happens to be located in a cherry orchard! (Yes, there are some great Chekhov moments.) Will they lose their ancestral home? Fun, smart and the Drama Desk Award winner for outstanding new play!

Remember, only the first 12 rows at Players are looped!

838 N. Tamiami Trail, Sarasota
If you attend a performance, thank them for the loop.
If you use the box office in person, thank them for the loop.
Did you like this post?
Please Share
Previous Post | Next Post