May 2018
______________________________________________________________________
STEP UP TO THE CHALLENGE
This year The Patterson Foundation will match ALL donations 1:1 for gifts of $25 up to $100. If you give $100, the Chapter gets $200!

Tuesday, May 1st to Wednesday, May 2nd from

Noon to Noon

!
The site will remain open only for 24 hours!
Approximately 50 million Americans have some level of hearing loss. Hearing loss can (and does) affect our physical and emotional health. Because we know we are going to miss much of the conversation, we often decide not to attend social events to avoid embarrassment and frustration.
We struggle in school because we can't understand the teacher. We sit in the front row and try to lip-read.
Hearing loss can lead to feelings of isolation, frustration and depression because of a lack of communication with friends, family and folks in the community. Hearing aids, cochlear implants and assistive listening devices can significantly improve the quality of life – yet only 1 in 5 actually use them.
The National Institute on Deafness and Other Communication Disorders (NIDCD) has joined the American Speech Language Hearing Association (ASHA) in observing May as Better Hearing Month.
The NIDCD, ASHA and Hearing Loss Association of America (HLAA) support clinical research efforts to improve accessible and affordable hearing health care. Above all, the NIDCD, ASHA and HLAA encourage people who think they may have hearing loss to seek advice from a hearing care professional.
You do not need to face hearing loss alone. Contact your local chapter of HLAA where you will find support, education and advocacy from members and peer mentors.
TEAM – Together Everyone Achieves More.

Anne Taylor
President

Hearing Loss Association of America – Sarasota/Manatee
Website – http://hlas.org
Facebook – https://www.facebook.com/Hearing.Loss.Association.of.Sarasota

______________________________________________________________________
MEETING UPDATES
Upcoming Chapter Meeting –


May 9th, 1:30 PM – 3:00 PM
Our snowbird season is over…however, hurricane season
begins June 1!
Following 2017's historically destructive fall and summer, scientists are now predicting the upcoming 2018 hurricane season will again be above average.
Sherilynn Burris, Emergency Management Chief at Manatee County Government, will revisit us, this time BEFORE hurricane season. Her responsibilities include coordination with Sarasota, Hillsborough and other adjacent counties as well as statewide coordination for all disasters.
She will discuss preparation for a variety of disasters with information on special services and technology assistance for those of us with hearing loss.
April Chapter Meeting Recap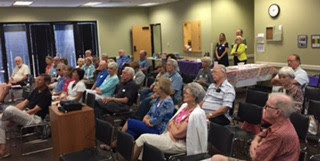 Our presenter in April was from the Florida Telecommunications Relay, Inc. (FTRI). Fabiola Sannon, FTRI Specialist, told us about the not for profit FTRI, which is funded by a monthly 10-cent tax on every landline phone.
There was an informative question and answer session about phones for the hard of hearing and a demonstration of the ring, lighting, captioning and amplification of a number of phones available FREE by appointment, even in your home.

[Contact is 941-351-9545. FTRI is located at 3281 17th St., Sarasota.]


NOTICE OF CHAPTER TIME CHANGE STARTING IN SEPTEMBER
The Chapter thanks the Sarasota Library for their continuing support of our chapter meetings. In the 2018-2019 school year, a youth program in our meeting room will necessitate an adjustment in our starting time.
We will continue to meet in our "Rap Sessions" at 1:30 over the summer. In September and forward, our meetings will begin at 12:30.
Upcoming After Hours Meeting –


Tuesday, August 7th at 6:00 PM
"After Hours" is the evening chapter meeting for members and guests who are unable to attend during the day. Of course, all members and guests are welcome! By the way, cheese, snacks and products of Napa and Sonoma are served!
At the last meeting, Mark Selis presented the latest information on hearing aid technology and available accessories. The Q & A continued well past the end of the meeting, and attendees enjoyed some delightful treats prepared by Flo Innes.
After Hours meets at the Center for Arts and Humanities, 1226 N. Tamiami Trail, Sarasota.
Our next event is Tuesday, August 7, at 6:00 PM. The speaker will be announced at a later date.

JOIN US – THE ROOM IS LOOPED! — AND CART TOO!
Click here to view the Event Calendar for Upcoming Events

______________________________________________________________________
SCENE & HEARD
FARMERS MARKET
Please contact Dave Donnelly to educate and advocate for those with hearing loss at the Farmers Market normally on the fourth Saturday of each month.

Consider volunteering for a two-hour shift. On-the-job training is available at any Farmers Market Day.

Let Dave know by contacting hla.sarasota@gmail.com.

SATURDAY, May 26th, 7:00 AM to 1:00 PM – SARASOTA

Our monthly information and support booth offers an opportunity for people to learn how to address their hearing loss.

There are FREE hearing screenings each month by one of HLAA-Sarasota/Manatee's Pro Partners. If you have a friend who needs hearing help and cannot make one of our meetings, please suggest they visit us here.

LISTEN!UP RECOMMENDS ….

Have you used our Helpful Links/Resources Page for relevant information regarding hearing loss? Click on: http://hlas.org/helpful-links/
Four websites that have up to date information regarding hearing loss
LoopFinder
Hearing Aid Financial Assistance for Florida Residents
Hearing Aid Financial Assistance for Children
Assisted Listening Devices
Donate Used Hearing Aids
Help the Needy. Get Tax Deduction
Hearing Aids
Cochlear Implants
Auditory Training
Other Helpful Links
"LIKE" THE HLAA-SARASOTA/MANATEE FACEBOOK PAGE

https://www.facebook.com/Hearing.Loss.Association.of.Sarasota
Get up-to-date information on support, education and advocacy,
and usually no more than one post a day.
Your "Like" of HLAA-Sarasota/Manatee provides much needed support for our goal to open the world of communication providing information, education, advocacy & support for the 145,000 people with hearing loss in Sarasota/Manatee counties.
______________________________________________________________________

LOUD & CLEAR
CHAPTER'S PAST USE OF GIVING CHALLENGE PROCEEDS


Thanks to your support during the past three Giving Challenge fundraising events, our chapter has provided:

(1) Four Hearing Tech Expo & Clinics in 2014, 2015, 2016, and 2017 attracting 2,200 residents from the Sarasota-Manatee area.

(2) 48 monthly educational programs at chapter meetings covering topics as varied as hearing aids, assistive listening devices, personal safety, effective communication strategies, and emotional well-being for 4800 community members with hearing loss.

(3) A Veteran's Clinic that connected over 150 veterans and their families with hearing health providers, services, and assistive technology.

(4) 36 organized dinners, 12 Happy Hours, 8 wine-and-cheese receptions, and 36 live-theatre outings to looped performances at the Players' Theatre of Sarasota for 1,500 area residents with hearing loss. An additional 50 people per year attend special performances at the Van Wezel Performing Arts Hall benefiting our chapter.

(5) A return to the movies for over 720 individuals who took advantage of Sony caption glasses at Regal theatres and CaptiView caption devices at AMC theatres.

(6) Supported over 6,000 people at community outreach events such as the Sarasota Farmers' Market, Chamber of Commerce gatherings, special educational presentations to service clubs and other business organizations, and similar community events.

(7) Provided 56 free hearing screenings to over 948 people at events such as: Hearing Tech Expos & Clinics, Sarasota Farmers Markets, Age-Friendly Sarasota event, Man Health Fair in Bradenton, Sertoma Hearing Health event, and other health-related functions.

(8) Advocated to, and convinced, 150 community venues (churches, theatres, restaurants, retail establishments, Sarasota City Council Chambers, Lakewood Ranch Town Hall) to provide better communication access through the installation of an induction hearing loop system that makes sound clearer to those with tele-coil switches in their hearing aids and cochlear implants.

(9) Supported over 250 people to participate in various community advocacy events supporting greater access in the community. Presenters included notable hearing loop advocates, Executive Directors of the Hearing Loss Association of America, representatives of local government, and authors of books about living well with hearing loss.

Thank You!!
OUR PROFESSIONAL PARTNERS


The HLAA policy is to not recommend any specific product, ENT, audiologist or hearing aid dispenser.

The Chapter follows this policy, but has identified professionals who endorse our 501 (c) (3)'s mission to help others through information, education, advocacy and support. They are listed on our webpage athttp://hlas.org/joanne-devries/.

Members are encouraged to review this list of professionals when considering professional services.

The following is a list of professionals who have assisted our Chapter over the past few years – Thank You!

Additional information is also available on HLAA's National website through its "SEARCHABLE HEARING HEALTH CARE DIRECTORY", a searchable hearing health care directory that enables you to look for hearing products and local hearing aid providers.
To access, click here.
HLAA–SARASOTA/MANATEE BOARD
If you wish to be considered to serve as a Trustee for the next two-year term in 2019, please contact Governance Committee Chair, Richard Williams at RNW1976@aol.com. The bylaws provide for term limits and there will be several openings.
The Board will next meet on Monday, May 7, from 5:00 – 6:30 PM at the Center for Arts and Humanities located at 1226 Tamiami Trail, Sarasota, FL 34236.

Chapter members are welcome to attend.
HLAA WEBINARHLAA Webinars are scheduled with short notice so check for the latest schedule. http://www.hearingloss.org/content/schedule.

On April 18, Lucas Landegger, M.D., Ph.D., spoke about "Inner Ear Gene Therapy – Recent Advances and Clinical Prospective".

Summary:
Current strategies to treat hearing loss include sound amplification (via hearing aids), enhanced sound transmission (via middle ear prostheses/active implants), and direct neuronal stimulation (via cochlear implants). While potentially transformative, these approaches remain far from optimal in restoring hearing function, and deficiencies in natural sound perception, speech discrimination in noisy environments, and frequency sensitivity remain. Gene therapy for the inner ear is a compelling new approach with high potential to improve the current standard of care for genetic, age-related, and environmentally-induced hearing loss.

This webinar will present a brief summary of several recent advances in gene therapy and discuss the major hurdles that remain on the path to widespread clinical use.

All webinars are recorded and captioned. You can view this and past webinars at any time.

Click here to access past webnars.
CHAPTER PRESIDENT'S MONTHLY COLUMN
IN THE VENICE GONDOLIER

Anne Taylor is a Bilateral Cochlear Implant user, a Gallaudet Certified Peer Mentor for the Hard of Hearing, and President of the HLAA Sarasota/Manatee Chapter.
May is Better Hearing Month
Do you know that approximately 50 million Americans have some level of hearing loss?

From 2000 to 2015, the number of Americans with hearing loss has doubled.

1 in 5 adults has some degree of hearing loss (Hearing Health Foundation, 2015).

In Sarasota and Manatee counties, there are145,000 people with hearing loss. Only 14% seek treatment and less than 0.1% get support.

Most people wait 5 – 7 years before getting help for hearing loss. Family and friends often notice hearing loss before the person with hearing loss does.

Signs of Hearing Loss:
* Television is too loud
* Requests many repeats
* Not hearing the door bell and telephone
* Fading away from conversation
* 'Jumps' when you appear
* Can't hear from another room
* Has trouble on the phone
JUNE HLAA CONVENTION NOTE

The upcoming HLAA Convention is in Minneapolis on

June 21 – 24

and the host hotel is the Hyatt Regency.

Highlights:
The opening night "Get Acquainted" party will include light fare, entertainment, and a cash bar.
The National Awards Breakfast & Ceremony will be held on Thursday morning.
The State and Chapter Awards Ceremony & Reception will be held

on Wednesday

evening. The awards ceremony is being split into two separate events. This ceremony will highlight state/chapter awards, while the national awards will be presented

on Thursday

morning.
The Research Symposium, Hearing in Noise, will be

on Friday

morning.
Educational workshops will focus on: Hearing Assistive Technology (HAT), Advocacy, Living with Hearing Loss, Hearing Aids & Cochlear Implants, and Hearing Loss in Health Care Settings.
MEMBERSHIP NOTES
The Hearing Loss Association of America (HLAA) is the country's leading membership and advocacy organization for people with hearing loss. As a member of HLAA, you are part of an organization with a mission to provide information, support and advocacy to people with hearing loss. Through HLAA's advocacy work at the federal level, it represents 48 million people with hearing loss in the United States.
WELCOME NEW MEMBERS

Nancy Pesile, Nokomis
Amy and Bob Farrell, Sarasota
Sherilyn Burris, Sarasota
Roberta Bohmer, Lakewood Ranch
Kathleen Treni, Venice

If you prefer to mail-in or fax your membership form, please download the membership form [PDF] for your convenience.


Chapter Members, please note:

HLAA sends only one notice for renewal and many members have unknowingly not renewed.
HLAA reported to us that we had fourteen member renewals and three professional renewals so far this year.

Please check whether your membership is current by logging in at:https://17291.thankyou4caring.org and if not, please renew (or join) by linking to: http://www.hearingloss.org/content/join.

THANK YOU!
If you have any questions on membership, please feel free to contact Anne Taylor at http://hlas.org.
_______________________________________________
PRIVATE EYES MOVIE CLUB
Enjoy the movies again with "Caption Glasses"!

Join us at our next "meeting" on

Tuesday, May 29th

.

The Club will meet around

4:00 to 4:30 PM

at the Hollywood 11 (new name as they remodeled losing 9 screens) on Main St. in Sarasota.

A roundtable "review" – and other conversation – follows at a restaurant within a short walking distance of the theatre.
HLAA members are entitled to a FREE movie ticket with their first outing with the Movie Club. Those interested should contact Anne Taylor (anne7257@gmail.com) to be included in the monthly club mailings.

It is also important that you RSVP to Anne, as we need a count to reserve a pair of caption glasses.
We will take the summer off, so please join us for the last movie of the season.

This is another "Members Only" perk, a great benefit of our nominal membership dues.

CURTAIN TIME THEATRE CLUB

The 2018 Players Theatre Summer Sizzler Series has been offered and reservations can be made after the June 1. Listen!Up will have the details in the June issue for FREE summer series ticket information. Our dates will be June 13, July11, & August 8.

Remember, the first 12 rows at Players are looped! The shows for this summer's season to our Chapter to attend free are listed by clicking on READ MORE!
If you attend a performance, thank them for the loop.
If you use the box office in person, thank them for the loop.
Did you like this post?
Please Share
Previous Post | Next Post